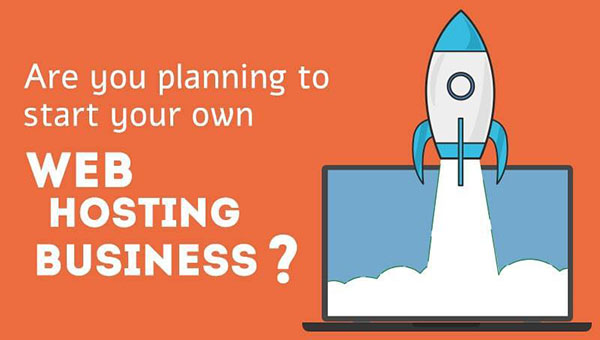 What is a Web Hosting Company? Web Hosting Company is a service provider offering Website Hosting by provisioning Shared Hosting plans on Reseller Hosting or Dedicated Servers.
Starting Web Hosting Business may look like a heavy lifting job, but it's not! We will take you through all the steps you need to follow to start your business. Before we start, let's talk how much time and investment you will need:
Investment: Under $100 required to start.
Setup Time: 7 Days to setup hosting business.
Yes, that's right, you start web hosting business with just $100. Our focus is to help people in setting up their business with the least amount of money and time.
Let's get started with steps to follow to start your Web Hosting Company:
Step 1: Define your Web Hosting Brand
The first step is to define how you want to Brand your Web Hosting site, it involves selecting a Brand Name and finalizing a Domain name! Best practice is to go with a Domain that is easy to remember and represents your business.
Let's take an example, if you starting web hosting company in India, you get choose ".COM" or ".IN" domain extension based on availability. Alot of companies prefer to choose country specific domain extension, since it's easier for visitors to find the country of the company and helps in country specific search rankings.
You can register domain name for your business at NameCheap, it has cheapest domain registration prices and offers free domain privacy for life.
Step 2: Find a perfect Reseller Hosting Partner
Choosing the right Reseller Hosting provider is very important, because you will rely on your hosting provider to keep your customer's website live and secure all the time! There are alot of Reseller Hosting providers out there in the market, we will tell you what you need to look at before selecting any provider.
Find how many years the company has spent in business, you should go for a company that has been around for atleast 3 years and have good reviews.
Are they providing Free Billing system, you will need one to manage your customer orders and billing. WHMCS is the most popular Hosting Automation platform and some reseller hosting providers offer it for FREE with plans.
Do they offer 24×7 suppot through Phone, Email & Chat – you will need support for any issues that happen with the customer's accounts.
Based on the reviews and expert opinions, we have picked TOP 3 Reseller Hosting Companies and their best plans that are best for web hosting startups. You can go with any of them, your choice 🙂
80 GB Disk (SSD)

800GB Bandwidth

Unlimited cPanel Accounts

Free WHMCS License

Domain Reseller Account

50 GB Disk (SSD)

600GB Bandwidth

Unlimited cPanel Accounts

Free WHMCS License

Domain Reseller Account

75 GB Disk (SSD)

600GB Bandwidth

Unlimited cPanel Accounts

Free WHMCS License

Domain Reseller Account
Step 3: Setup your Hosting Website & Tools
It's now time to setup your website and all essential tools to kick start selling. Here is the checklist that you need to complete:
Setup Website: Build your web pages, we suggest you create atleast 4 pages to start;

Home Page: to reflect information about your company info, contact information and details about your shared hosting plans.
Plans & Prices Page: to reflect details of your plans and their prices. A good way to set pricing for your plans is to research the average pricing offered by competitors. Let's say you are providing services in India, you can look at prices other web hosting companies in India are offering so you can stay competitive.
About Page: It is important to have an about us page even though you have mentioned company details on the homepage, alot of potential customers will want to read about the company before they make a purchase.
Contact Page: Show your contact details including your operations timing, alot of potential customers will want to contact you via phone or email before they purchase.
If you don't have the expertise to build the website, no worries! ThemeForest offers WordPress/HTML5 templates for as low as $20 – you can buy one and setup your webpages.
Setup FREE WHMCS: Installing WHMCS is easy, all companies that we mentioned above has auto installers for WHMCS within few clicks. Setup plans on WHMCS and integrate with your web hosting page to make the order process simple.
Setup LiveChat: Integrating live chat feature on your website will help you scale you business fast, potential customers will be able to request help and won't have to wait for the email correspondence. Tawk.to is a Free Live Chat system that you can setup within 10 minutes.
Step 4: List your company on WHmedium
WHmedium is a global web hosting directory and listing your company on it help you showcase your presence in your country of operations! It will also allow you to collect reviews from customers, once you have a few amazing reviews you can use your WHmedium's page as the marketing tool to get more customers.
Take a look at HostGator's reviews page on WHmedium and see how having outstanding reviews help them get more sales:

Step 5: Start selling!
Once you are finished with above steps, now is your time to start selling! Landing first few orders is always the hardest task, but don't rush.
One of the ways to get first few orders is by offering 50%-60% OFF promo code to initial customers. Share this promotion on forums & social media including Facebook's Web Hosting & Designing related groups & page – in return ask customers to submit a 5-star review for your company, if they like your services!
Conclusion
Let's look at the total investment/cost of your web hosting startup:
.COM Domain (NameCheap) = $8.88/yr
Reseller Hosting (HostGator)= ~$19.9/m (first month)
WHMCS = FREE
Domain Reseller = FREE
Website (Premium Template) = ~$29/one-time
Live Chat = FREE
That makes a total ~$60 investment to start web hosting business, as you start getting order you can pay Reseller hosting monthly subscription from your revenues while keeping the rest as profit.
Key to making any business successful is to remember that developing a stable company will require you to put consistent efforts while being patient without loosing hope! Good luck 🙂
We suggest you to read our Blog post regarding 10 effective steps to Grow your Web Hosting Company – where we have explained everything you need to do to grow your business.