Alot of web hosting companies fail to attract customers or don't enjoy sustainable growth. We know of alot of hosting providers that started with feature rich plans and attractive pricing but have't been able to survive. Why? We researched through the details and found Webhosts don't follow the must do Marketing Steps!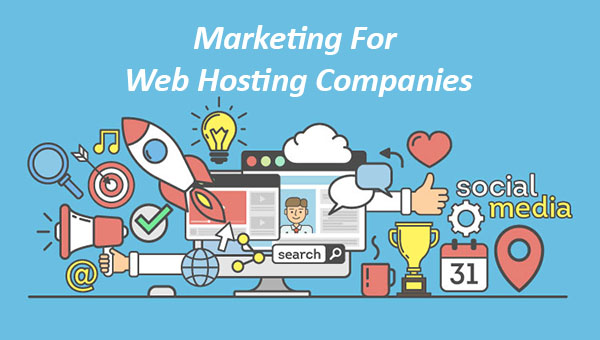 We have compiled 10 must do Marketing Steps for Web Hosting startups below:
1) Setup Google Analytics & Facebook Pixel
The number one step for any web hosting company should be to setup Google Analytics (GA) & Facebook Pixel (Pixel) tracking on the website. During the initial days when you start driving traffic, it is best to know how the visitors behave (monitoring bounce rates & repeat visits are good metrics to start with).
Build custom audiences on GA & Pixel to build a pool of audience. GA & Pixel will keep track of all website visitors for last 180 days i.e. your audience pool grow for the next 6 months from the day you start.
2) Setup your Social Media profiles
Create your Facebook, Twitter & Linkedin pages, these are must for any online business. Almost everyone that has access to internet, uses one of these platforms. Make sure to write clear Bio about your company including your URL and showcase them on your 'About' and 'Contact' pages.
3) Setup your WHmedium profiles
Create your Web Hosting company profile on WHmedium, this helps you get more leads. WHmedium is a Web Hosting niche directory & reviews platform – listing your hosting website will help your website get more visibility and improve search rankings.
Here is an example of how HostGator's reviews page look like:

Read why collecting Reviews are important for Web Hosting Providers.
4) Setup your Blog
This is a very important step, every successful web hosting company run a Blog. Why? Firstly, your website SEO will improve if there is regular fresh content posted on your website.
Second, it's an easy way to get traffic. You can post content regarding different website development / optimization related topics. This will attract visitors of your targeted niche and you can start converting them by presenting discounted deals.
5) Setup Email List
Email list is important to get details of the visitors before they are gone to never come back. Bringing each visitor is a matter of cost & effort, setting up email subscription helps you get the details so you can reach them when with discounts.
We spoke to Web Hosting providers and found that they have increased their conversion rates significantly by setting up email follow up marketing techniques. MailChimp offers Lifetime Free subscription for up to 2,000 email contacts, so basically a FREE tool.
6) Optimize Content & On-Page SEO
It it important that your content is unique and focusing on keywords that are relevant, in order to improve your search presence. Here is a checklist to get started with:
Content on your pages should talks about features of your web hosting and about your team / company.
Ensure your meta tags (title, description and social tags) capture keywords that you are embedded in your content.
Create 'About Us', 'Terms of Services' & 'Privacy Policy' pages.
7) Beef up your Traffic Strategy
Once you have completed the above steps, it's time to get the game started. Let's talk about how to bring in traffic to your web hosting website.
Short term / Quick approach: Don't get confused with the word, here we want to talk about the leads you can drive from mediums other than search:
Start collaborating in web hosting forums and Facebook groups e.g. WebHostingTalk is one of the leading web hosting forums and many website owners including companies interact our website related topics. Register yourself and start helping people around, when you post your website BIO/URL appear in your signature and help you drive traffic.
Post your website details on Social Bookmarking websites, they help in boosting traffic to specific pages.
Post your webpages in Facebook posts & Tweets with hashtags for your niche.
Long term traffic approach: As the name says, the process will be slow but will focus on the long term growth of your business by helping you improve your Off-Page SEO, thus, search results.
Start interacting on similar niche blogs by posting comments, this helps in driving leads and gets you backlinks to your websites.
Post your website details in the business directories and local yellow pages.
Reach out to related niche website owners for Guest / Sponsored posts e.g. if there is blog that has content related to WordPress Themes & Plugins, you can reach them to request for a post submission relating to your WordPress Hosting plans.
Ask your customers to post reviews on your WHmedium company profile page and link it to your website, as the reviews increase, it shows the hard work your company does.
8) Start Affiliates Program
Why not? Instead of doing all the hard work alone, get other to do it for you. It scales quickly since all website owners and even your existing customers are looking to earn online, paying a percentage or flat amount of every successful sale they refer will bring in conversions.
Almost all web hosting billing management portals have affiliate functionalities. Get your affiliate program page setup and start on-boarding your sales force!
9) Setup Paid Campaigns
If you have the budget, you can setup Google Ads to rank on your targeted keywords. We suggest you to initially focus on long-tail and low to medium strength keywords that will help you get potential leads for a lower CPC.
For every ads segment, it is better to create multiple ad copies (atleast 3) and monitor them for the results to find the most suitable one. Remember there is no one perfect way to do it, idea is to optimize regularly.
10) Setup Re-targeting Campaign
Have you ever noticed that Google & Facebook starts showing you ads of websites that you visited recently? This is re-targeting. The first thing we did was to setup Google Analytics & Facebook Pixel tracking on the website. Now is the time to setup a retargeting campaigns.
How & Who to retarget? Both Google and Facebook build an audience pool of all visitors that land on your website. When you setup your re-targeting campaign, your ads start to target the audience that visited your website in past.
What are the options for targeting? Here are some of the basic tips for filtering specific audience pool for targeting:
Exclude audience with just 1 page view – this helps filtering visitors who bounced, either because they are not interested or the website is not relevant for them.
Exclude audience if they make a purchase – you can do this by excluding an visitor who has landed on order success page.
Exclude audience if they click 2/3 times on the Ad and still don't convert – so you can control the cost.
You can setup different targeting segments e.g. for visitors that added web hosting plan to cart and search domains but didn't checkout, you can target them with a discount promo code to push them to complete the order.
Remember, doing the above steps once won't help. Marketing your web hosting company is about being consistent and gradually improving the results, so keep going!