Ever wondered why Web Hosting companies show reviews on their website or link to third party reviews platform? We will take you through everything you need to know about reviews and their importance for Web Hosting companies to grow.
Reviews are independent experiences posted by customers, reasons why they love or hate a Web Hosting Company. These reviews work as FREE marketing and hosting providers have significantly increased their conversions by showcasing reviews.
Take a look at HostGator's reviews profile on WHmedium.

The page shows HostGator's ratings that calculated based on the reviews posted by it's customers. When potential customers look at these reviews and ratings they are more likely to subscribe to HostGator's web hosting services.
Worried about negative reviews web hosting reviews?
Reviews are indicators of the overall service hosting company provides, there will always be unhappy customers posting negative reviews. General rule is to work on service improvement and provide support actively. But the good side about negative reviews is that they can lead to opportunities of improvement.
WHmedium allows Website Hosts to post replies to reviews, so potential customers will know that the company actively works on resolving customer complaints and is very serious about the business.
Here is an example of the review and response posted.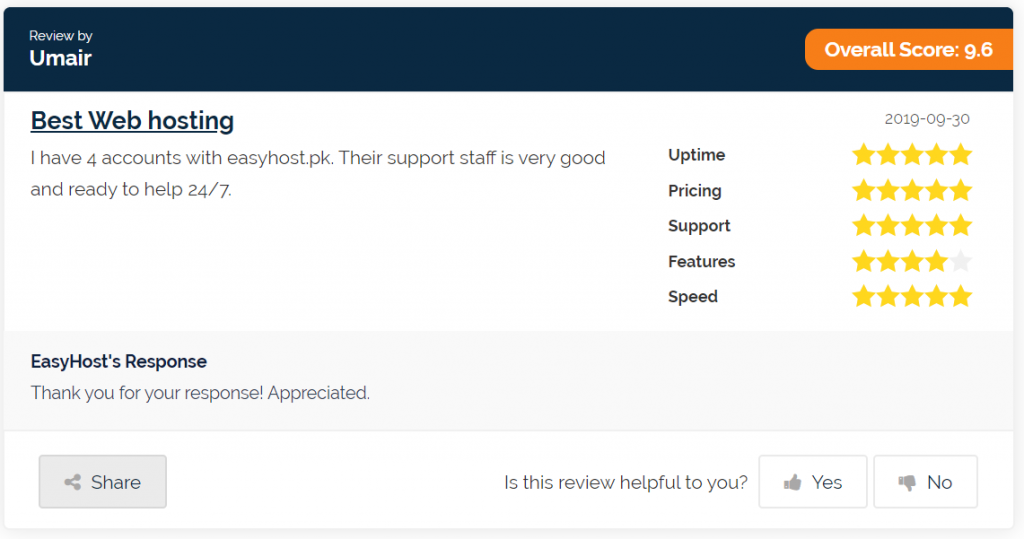 Lastly, even before a potential customer reads reviews, they are likely to proceed with subscription since they find the company listing on WHmedium and find details about the company (giving them confidence).
If you are a Web Hosting Company owner / executive you can go ahead and list your hosting company on WHmedum in just 10 minutes (read here).
How to get reviews about your company on WHmedium?
The best ways to start collecting reviews from customer are as follows:
Add a widget of WHmedium in footer of your company website, link it to your WHmedium's company profile.
Send an email to existing customers, requesting them to post reviews.
Write a blog post mentioning your WHmedium's company profile.
Add a footer note billing / support emails you send to customers requesting them to post reviews.
These are just examples of how companies ask for reviews on WHmedium, you can apply other strategies to promote your company profile and get more reviews.